#15 Book Design Part 2

This is one of four variant editions of the limited reissue of my first novel,
Long Lost Dog Of It
. I wrote this book between 2012-2014, under influence of neon noir like
Only God Forgives
,
Lost Highway
,
Collateral
,
Enter the Void
; books like
Wise Blood
,
American Tabloid,
Antwerp
,
V
; erotic films like Andrew Blake's
Dollhouse
and
Paris Chic
. I think there's also some Cormac McCarthy/DFW influence in there too. If you enjoy that weird kinda shit, maybe you'll dig it, who knows. You can order it
here
until Monday, June 14.
As far as this particular design goes, it's the only non-Matthew Revert cover to any of my work. I never thought I'd design something for myself, let alone that it'd see print. It was intimidating to have something of mine next to three killer designs by him. I decided on something minimalist that reflects the book's tone. The idea of a fracture behind a machine gun seemed fitting, after a few variations. I thought a lot about the back of Ryan Gosling's scorpion jacket in the movie adaptation of James Sallis'
Drive
while working on it. I also wanted the back cover to feel like the opening credits sequence of a film. I think it turned out pretty okay.
And here are Matthew Revert's designs for the other three covers:
#14 Forking Paths

You'll become death, you will take breath
This is for everything you've ever loved
Use all the pain that you've felt in your life as the currency go out and trade it for blood

—El-P

June 3 2021

I was intending to write 21 straight posts when I started this blog, to form the habit, but this trip to Portland has derailed that by just keeping me busy. That's okay. I'm done making myself feel bad about things I can't stick to. Ritual ain't as important as intention. And I spent the past week running around getting those errands done, as well as typesetting multiple books and working on Rat Police, which is looking more and more like a real book these days. And speaking of, it's on my mind obsessively lately.

Much of Rat Police has its origins in the ruins of another novel I started in the latter half of 2014. I originally wanted to write a book about European rap, about the impact of American pop culture on Europeans and North Africans, shit I was immersed in while in Athens in the mid-'00s. But the more I researched and wrote, the more pressure I started to feel to absolutely get it right. And when the focus becomes on getting it right, on telling it perfectly, the writing stops being fun, then you stop wanting to work on it. You add all the other factors (stress, trauma, anxiety, etc) and the book inched by for yeeeeeaaarrrrrs.

Rat Police has since gone through several incarnations, or false starts. It was at points an apocalyptic road novel about talent, a coming-of-age drama, a neon-noir murder mystery. But it didn't find its voice until the horror started to creep in.

Looking back, Long Lost Dog Of It underwent similar narrative mutations, beginning at first as Lovecraftian myth, then an erotic relationship noir, a street-level take on espionage thrillers. Through each build, the elements of the different kinds of stories left traces. So, LLDOI is cosmicism and sexy, dreamy surrealism, but it's also an action-packed crime thriller. I think the process that built it is why it doesn't quite feel like much else that preceded it. And hopefully why the next one won't, either.

As far as what Rat Police is actually about: death.
#13 Portland

May 28 2021 (Retroactively)

Didn't have time to post yesterday as I was driving 15 hours straight from Los Angeles to Portland. One thing I'm appreciating about freelancing/remote work that I'm grateful for this week is the ability to make that drive and take my work with me. It's stressful to not have a dedicated workspace and all the resources that a home/work office offers, but it's also great to be able to take care of important errands in a different state within a day of realizing I had to.
#12 The Pause Button

Bolaño: "The true poet is the one who is always letting go of himself."

May 27 2021

I had this realization that it'll actually easier for me to do typesetting/design work, prep the new KSP titles, and have the time to finish Rat Police and Book 3 if I just put my shit in storage here in LA and head to the East Med for a few months, where I got some friends and family who really miss me, where my cost-of-living will be absurdly cheaper, where I'll have just a little bit more of that rare commodity called time while I've still got the creative juice.

I didn't see it at the time, but I worked really, really damned hard the past several years. An maddening amount of overtime with no real purpose behind it. I have to wonder, in retrospect, whether that was compensating for all the uncertainty and fear during austerity. I did take some breaks, I went on some trips, but that stuff never seemed to help me decompress or feel normal. I was never able to relax. It wasn't until I quit my job this year and decided to focus on working for myself that I started to feel pretty okay again. Maybe that's key?

I still want to be in Los Angeles, because there are things I definitely want to experience and try here, but with Covid restrictions and uncertainty and a less-than-ideal living situation, it seemed like the right play to give my 30-day notice and go with the universe's flow, which was pointing me away. So I did exactly that and immediately felt better. I'm listening to that part of myself these days.

#11 Choke

Back in 2013, I was supposed to cover the Rontel release party for
Electric Literature
. I was honestly too scared to finish it because I'd never done anything like that before, so I choked. Anyway, these are my notes from the event. I don't think this has ever been shown to anyone. Because it's honestly a fucking freehand mess. I still think it's a cool snapshot in time, though! And I still have Scott McClanahan's "Turquoise" pages in a box somewhere.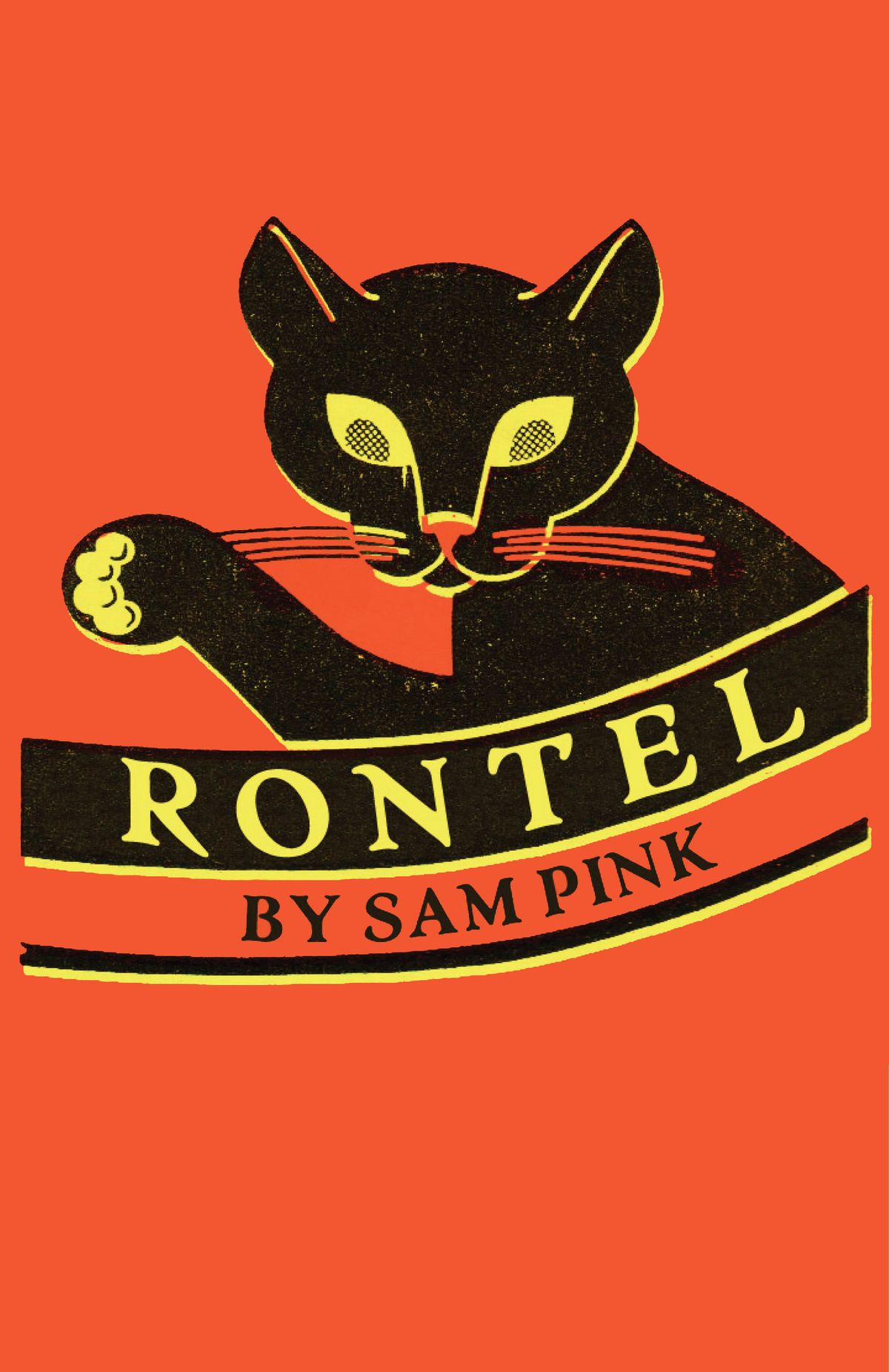 (Electric Literature's RONTEL cover.)
May 26 2021

"March 11, 2013

RELEASING RONTEL: observations at a release party/reading

housing works intro—books and booze sold on premises benefit homelessness and aids victims—amanda explaining donations and volunteerism—"very rarely does pbr do good in the world," she says and this is all more important than the release of rontel truth be told but i'm thinking hey beers and shit and it's for a good cause count me in—also rontel is a fucking cat, this is almost all about some dude's cat

All stirring after the introduction. Sam Pink ran a little late, arrived shortly after 19.00, sweating like he'd just landed and rushed there. (He had, it turned out.) After a chain of handshakes and greetings, he caught up with Scott McClanahan off to the side of the rear bar, and after some quick hellos and drink tickets dished, they sat against the wall beside some stacked tables in a darkened corner, imbibing quietly, a few meters distance from everyone else. Those due to perform all seemed more nervous than usual. maybe it was the way this reading's expectation had exploded from a quiet reading to a release party within a day or so of inception, and had expanded beyond that in the weeks following to this packed event.

Cameron Pierce and Halimah Marcus first on stage, performing a duet reading: Brief excerpt of Sam's writing, and they introduce the event. Applause; everyone seems to love Sam Pink, excepting sometimes, his blog gives you the impression, maybe Sam Pink himself. Outside during a smoke break, I purchased a drawing of his for ten dollars and he said, "This one will stare at you when you sleep," or maybe he said, "when you dream," and handed me a torn leaf of paper with a face and eyes that were very intense.

They introduced Spencer Madsen, who is author of a million bears and also runs Sorry House. He read from an as yet untitled novel ("Tentative," I said; "Yes, Tentative," he said) coming the end of this year from Scrambler Books. First a brief requiem for the King of Sealand then a dissolution into what it's like to be a person.

A thing I noticed from the three readings I attended on Monday and Tuesday in NYC, most people just seem to write about bad relationships.

Kirsten Alene, author of Unicorn Battle Squad and Love in the Time of Dinosaurs, comes on and reads from a forthcoming release, Japan Conquers the Universe. It built and built and its structure and content made me think of a balloon or maybe Matrioshka dolls being stacked and there was something Calvinoesque about the execution of the prose and I couldn't put my finger on it but this appealed to me.

J David Osborne (By the Time We Leave Here, We'll be Friends) is from Oklahoma and unaccustomed to any big city let alone this city. He recalled a subway incident from the night prior wherein an MTA official threatened someone for coughing with "a foot to the fucking mouth" if he didn't cover it. His piece from Low Down Death Right Easy, a crime novel "where the people in it make progressively worse decisions," featured a scene in which an impoverished couple traveled the world together via Google Maps street view.

Cameron Pierce returned and asked the crowd how many related to what David had just read. Few hands raised. He said, "Well, I relate to it because being poor sucks." Then: "How many of you have seen The Human Centipede?" More hands raised. "How many of you have heard of Tao Lin?" Buzz of reactions. Pierce read a dry but hilarious short entitled, "The Human Centipede 2: (UFSI Sequence) by Tao Lin: a Novel." It was exactly what it sounded like.

Scott McClanahan, author of Crapalachia and Hill William, which he read from entirely in character (?). He spoke rapidly and you mostly understood only what he wanted you to, giving you more from the emotion and performance presence than the actual words. He would slow down or raise his voice, usually to say PENIS and TURQUOISE JEWELRY. People at first uncertain then laughing lots then taken to silence. He walked right through whatever imagined proscenial window existed and engaged the crowd, serenading them with Donovan's "Turquoise," a track playing from his mobile phone. McClanahan gave me his pages later and it turned out PENIS was scrawled as an annotation at the bottom of the page.

Sam Pink (Person, The No Hellos Diet) comes on in front of a room that's gone totally quiet and he sits on the edge of the stage and reads without a microphone. It's an excerpt from his new novel, Rontel, about playing video games and giving "ear sizzles" and headbutts to a cat who likes having his head shaved. He got a lot of claps.

Then we all went for drinks though some of us managed to get lost along the way."

[Note: The getting lost part, that was our crew, and that's where/when Broken River Books was born, at a bar with a Pac-Man game table, during a discussion between J David Osborne and Cameron Pierce.]